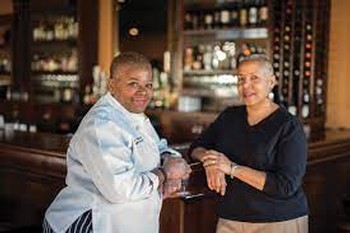 November Sip & Savor: Food for the Soul
November 5, 2023, 1:00 PM @ Chloe Hall
Tickets on Sale: Wednesday, October 25, 2023, at 10:00 AM for Club Members. Friday, October 27, 2022, at 10:00 AM to the general public. Online only.
Cost: $105 per person. Wine Club Members $95 (limit 2 tickets at the wine club discount). Tickets are sold in pairs, minimum purchase of 2 tickets.
Spend An Afternoon Together Celebrating Comfort Cuisine Created by Sweet Potatoes paired with the Fine Wines of Jones von Drehle.
We welcome Owner and Chef Vivián Joiner and James Beard Semi-Finalist Chef Stephanie Tyson as they bring to Jones von Drehle food paired with wine selected from our estate to inspire the heart and warm the soul. Gather around our tables and embrace the warmth of community.
Course 1
Wine: Petit Manseng 2021. The perfect balance of tropical fruit, hints of citrus, tingle of crisp acid, and warmth of alcohol on the finish that pulls you in for that next sip. This wine loves food and especially cream and butter based-based sauces. Embrace this pairing!
Pairing: Silken Turnip Soup.
Course 2
Wine: Rosa Dia 2022. A Provençal-styled dry rose using Grenache from our Block B plantings. The light pink color embraces a glass of delightful fruit ranging from hints of strawberry to honeydew melon.
Pairing: Smoked Seafood Cake with tapenade & crème fraiche.
Course 3
Wine: Malbec 2018. A dark red wine with twists of tart cherry, juicy plum and raspberry jam, the 2018 vintage gave us a beautiful food wine. Chef Stephanie's pairing weaves the texture of this wine around the elements of this dish.
Pairing: Grilled Chicken with country ham collard greens, melted brie, sage gravy & Carolina Gold Rice.
Course 4
Wine: Steel & Stone 2018. One of our signature red blends, Steel & Stone, is celebrated with many major awards but it is most appreciated for its flexibility in pairing with comfort foods such as Chef Stephanie's Roast Pork or just sipping a glass before a late fall fire.
Pairing: Roast Pork with peanut sauce and Sweet Potato Puree (naturally!)
Course 5
Wine: Blanc de Blanc 2021 A sparkling wine produced by Methode de Champenoise using select Chardonnay grapes from our Clone 95, a Burgundian Chardonnay used to produce sparkling wine in the Champagne region of France. Bright, crisp and wonderfully dry.
Pairing: Cranberry apple Tart with Cinnamon Whipped Cream