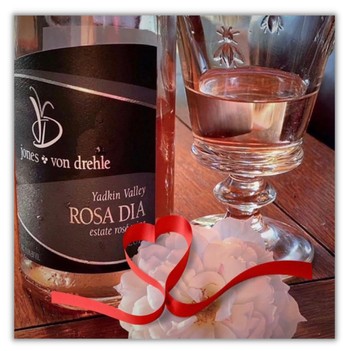 Valentine's Event Ticket 2023
Valentine's Event Ticket 2023
The day begins….
Oysters, freshly shucked from North Carolina. Provided by Oysters 365.
Paired with newly released Blanc de Blanc sparkling wine. Produced by méthode champenoise. Crisp, fruity, and dry. The quintessential perfect pairing.
Next, a tasting plate of select charcuterie, soft cheeses, fruit and toasted nuts. With crostini and jam.
Paired with the lovely Rosa Dia. One of JvD's most awarded wines, this dry Provence style Grenache Rose´ is crisp yet fruity with a balanced finish that is as simply refreshing.
Finally, a trio of truffles hand-crafted by Brasstown Chocolates of Winston Salem. Dark chocolate nibbles to bring out the best in a deep dark wine.
Paired with Malbec Reserve. Black fruit and rich ripe berry notes set this wine apart from others. We grow this grape in the upper section of Block B where the vines sit amongst the pebble strewn loamy clay. Rich and Reflective.
Wait, we are not done yet! Now for a special treat. Tanner will present a preview of the 2019 Petit Verdot straight from the barrel. As you complete your seated tasting, take your Malbec glass to meet Tanner at the barrel for a taste of the 2019 vintage foretell. And as you taste, nibble on a berry infused dark chocolate pretzel stick. We hope you will be as excited as we are. We plan to bottle this wine in July.
We hope you will join us on this special day.
Consuming raw or undercooked meats, poultry, seafood, shellfish, or eggs may increase your risk of foodborne illness, especially if you have certain medical conditions.