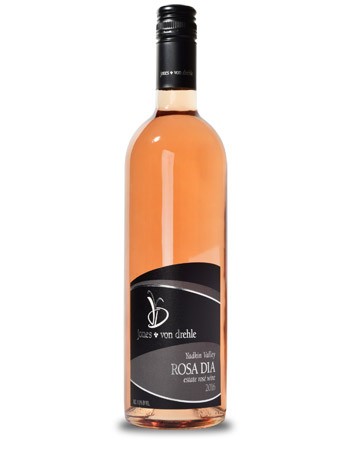 2019 Rosa Dia
A dry true pink Rosé fashioned in the Provence style. Our Grenache is harvested in cool morning hours when the combination of color, sweetness and acids are aligned. Fresh berries and floral notes in the nose followed by flavors of berries with a tease of lime zest.
Enjoy this light dry Rosé with roast turkey, Chèvre or steamed shrimp.
Purchase limited to four bottles per order.
Awards:
2019 NC Fine Wines - Best Rose in NC
2018 NC State Fair - Silver
2018 NC Fine Wines - Best Rose in NC
2018 Atlantic Seaboard - Silver
2018 Drink Pink - Silver
2017 Drink Pink - Gold
2017 Drink Pink - Gold
2017 NC Fine Wines - Best Rose in NC
2017 NC State Fair - Silver
2017 Indy International - Silver
2016 NC State Fair - Gold
2016 Drink Pink - Gold
2016 Indy International - Silver
2016 Asheville Food and Wine - Silver
2015 Dixie Classic - Gold
2015 Indy International - Silver
2015 Asheville Food and Wine - Silver
2014 Dixie Classic - Silver
2014 TEXSOM - Silver
2014 Indy International - Silver
2014 Asheville Food and Wine - Silver
2013 NC State Fair - Double Gold
2013 Dixie Classic - Gold
2013 Womens International - Silver
Wine Specs
Appellation
Yadkin Valley