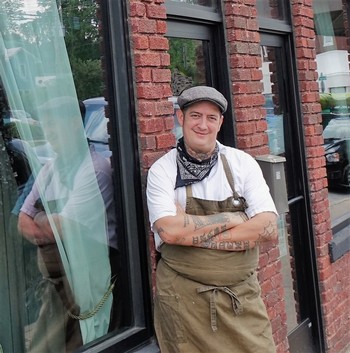 Sip & Savor: Steven Goff
First plate: 2021 Rosa Dia. Provence styled Grenache dry Rose. Notes of fresh berries with crisp finish. A perennial award winner, the perfect wine for the season and on into Fall with roasted poultry. Always on our Thanksgiving table!
Pairing: Crispy sweetbreads with greens, labneh, pickled berries, berry vinaigrette, and BBQ spiced croutons.
Second plate: 2021 Viognier. A new release! The tradition continues of JvD Viognier with elegant stone fruit, honeysuckle and delightful easy finish. One of the major plantings at JvD, we embrace the difficulty in growing this grape in order to achieve the quality of the wine. This pairing is remarkable in elevating the wine while boosting the flavors of the food.
Pairing: Country ham and peach salad with red curry vinaigrette, minted yogurt, herbs and extra virgin olive oil.
Third plate: 2019 Petit Manseng. New Release! A white wine with solid bones. The acidity and alcohol embrace the challenge of butter or cream sauces.
Pairing: Steamed mussels with coconut cream, collards, pea shoots, pork rind furikake and herbs.
Fourth plate: 2015 Cabernet Franc. One of the largest planting at Jones von Drehle and a favorite on the wine lists of many fine restaurants across North Carolina. Light tannins, elegant berry fruit, with a light measured touch of French oak influence, it is the perfect accompaniment to any roast or grilled meat.
Pairing: Braised brisket with fennel salad, Carolina gold rice congee and crispy shallots.
Fifth Plate: 2015 Steel & Stone. A limited offering from our library. This wine, a winner of many awards, is presented as an elegant end to this day of pairings. A Petit Verdot / Cabernet Sauvignon blend, with deep complexity, balanced tannin and fruit. Sip as you taste this classic dessert with entwining richness, sweet and balanced flavors.
Pairing: Flourless chocolate torte with dulce de leche, macerated berries and meringue.
Wine Club Members please take advantage of your membership benefits in purchasing two tickets at the discounted rate of $78 per person. Tickets are sold in sets of two, and you may purchase as many as you like until we're sold out. Seating is family-style, 8 guests per table with first come, first served seating. If you wish to reserve a full table for 8, please email Erika at erika@jonesvondrehle.com.
Ticket sales are final with no refunds. Must be 21 years of age and older for this event. Wines and pairings may change depending on availability.