Sip & Savor
August 13 | 1:00 PM
$105 per person | $94.50 per member
Tax is applicable.
Two tickets maximum at club price.
SOLD OUT!
"I recently had the privilege to meet with Serge at his restaurant, Bodega Tapas, Wine, & Rum, in Wake Forest. Together, we tasted our wines to select the ones we would highlight at our August Sip & Savor wine dinner. What a treat to witness Serge sip each wine with careful deliberation as he searched his mind through the countless possibilities to find the perfect puzzle piece to fit the wine before him. I watched with fascination and awe, as he would suddenly take his pencil to paper to pronounce, this is the one!"
- Chuck
---
First Course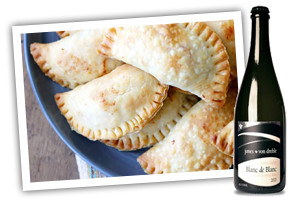 The Wine:
Blanc de Blanc 2021. A sparkling wine produced by Methode de Champenoise using select Chardonnay grapes from our Clone 95, a Burgundian Chardonnay that is used to produce sparkling wine in the Champagne region of France. Bright, crisp, and wonderfully dry.
The Food
House-made Empanada filled with a North Carolina-raised Wilders Waygu beef in a Cuban-style picadillo and drizzled with cilantro crème.
---
Second Course
The Wine:
Rosa Dia 2022. A Provençal-styled dry rose using Grenache from our Block B plantings. The light pink color embraces a glass of delightful fruit ranging from hints of strawberry to honeydew melon.
The Food
Salade with Grandma's vinaigrette recipe and roasted goat cheese.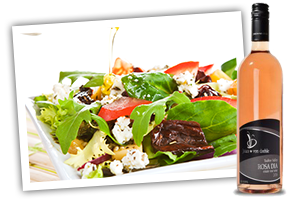 ---
Third Course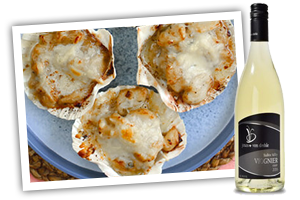 The Wine:
Viognier 2022. One of JvD's most awarded and popular wines. A Rhone Valley grape that grows exceptionally well in our terroir. In the nose, honeysuckle, stone fruit, and slight hints of ripe pear.
The Food
Coquille St. Jacques gratinées in the shell, shrimp, mornay sauce, and mushrooms.
---
Main Course
The Wine:
Rock & Rail 2018. Blending all five of our estate-grown Bordeaux grapes, we produce our signature blend of complex intrigue in aroma and taste. Deep berry fruit, ripe fig and hints of coffee give us a great accompaniment to richer meats and hearty fare.
The Food
Sliced Brisket, prepared by Prime Barbeque of Knightdale North Carolina, with a green peppercorn sauce and Pomme purée.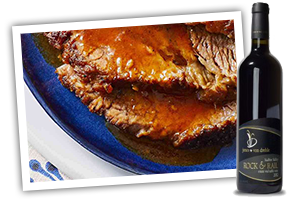 ---
Dessert Course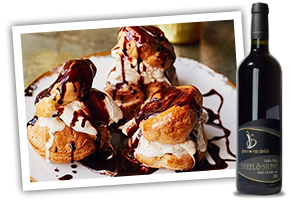 The Wine:
Steel & Stone 2013. From our library, we are offering this very limited wine for this Sip & Savor. Reserved from our highly-awarded and recognized first vintage of Steel & Stone you will see and taste the incredible age-worthiness of wine from this estate. Rich, textured with grace notes defining its age.
The Food
Espresso coffee, Lumpy's of Wake Forest ice cream Profiteroles, with chocolate sauce and crumbled roasted hazelnuts.
---
Tickets go on sale Friday, July 21 at 10 AM for Wine Club Members, and Tuesday, July 25 for non-member guests. Members will need to log in to purchase their discounted tickets. A maximum of 2 tickets per membership may be purchased at the discounted rate. There is no limit on purchasing additional tickets at the regular price.
If you are a member and wish to purchase a full table of six, please contact Diana at the winery (winery@jonesvondrehle.com) before tickets go on sale so the table may be reserved.