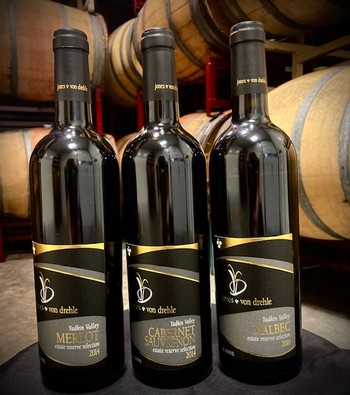 Reserve Collection
2014 Merlot Reserve: Barrel-aged in French Oak for 60 months. This wine is an elegant blend of spice, dried cherry and raspberry.
2014 Cabernet Sauvignon Reserve: A great balance of tannin, fruit, and structure, this Cabernet Sauvignon was aged 48 months in French Oak. This reserve wine has dark fruit aromas and flavors with hints of cedar and caramel.
2016 Malbec Reserve: Aged for over 30 months in French Oak and has a smooth, lingering finish. Notes of dried black cherries, chocolate and blackberry, and complex aromas of plum and cedar.