Baked Brie with Figs and Honey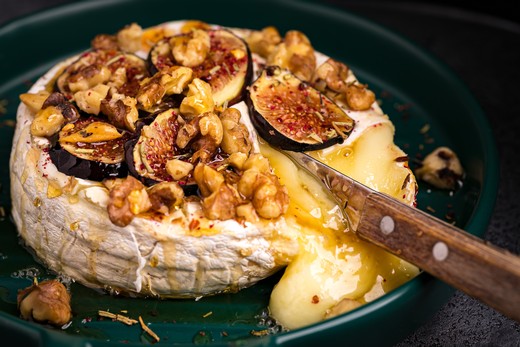 Recipe Date:
June 2, 2023
Measurements:
Imperial (US)
The bright and floral notes of the Viognier complement the creamy and nutty flavors of the brie, while its acidity helps to cut through the richness of the cheese. Whether you're entertaining guests or simply treating yourself, this pairing is a match made in heaven. So grab a bottle of Viognier and get ready to indulge in the ultimate cheese and wine experience!
Ingredients
1 wheel of Brie
1/3 cup of apricot jam
Zest of one small orange
1/4 cup chopped and toasted walnuts
Fresh figs, sliced
Honey for drizzling
Maldon Salt to taste
Crushed red pepper flakes, if you dare
Directions
Preheat your oven to 375.
In a small bowl, combine the apricot jam and orange zest.
Place the brie in an oven-safe dish, then place it onto a baking sheet just in case the cheese bubbles over.
Top the brie with the jam mixture.
Bake for 10-15 minutes or until the cheese is bubbly.
Remove from the oven and let sit for a few minutes to cool slightly.
Garnish with toasted walnuts, fresh figs, a drizzle of honey, Maldon salt, and red pepper flakes.