November 9, 2022 | The Jones von Drehle Blog | Chuck Jones
Bubbles, Bubbles, and More...
When the world is your Oyster, it's time for a glass of bubbly, so…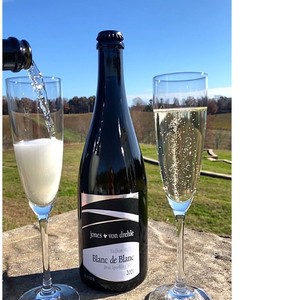 It's Time to release our very first Blanc de Blanc sparkling wine! 100% estate produced from our Chardonnay, Entav-Inra French Burgundy clone 95. We have anticipated producing this wine for over 10 years, and now the time is here!
Join us at Chloe Hall on December 11, between noon until 3:00 PM, for a special tasting perfectly paired with a half-dozen freshly shucked North Carolina oysters, raw or steamed, along with accompaniments of cheese, fruit, and fresh French Bread.
$35 per guest, $30 per Wine Club Member (max two tickets at Club Member Pricing). For addtional tickets above your two member discounted tickets, please create a second order.
This is a sip and stroll event offered between the hours of 12pm-3pm.
Limited Availability so Reserve your Tasting Here!
Our winemaker, Tanner Pardue will be on hand to discuss the creation of this wine and its characteristics. Oysters are brought to you by North Carolina Aquaculture Farmer, Oysters 365.
JvD Blanc de Blanc 2021. A dry sparkling produced by Méthode Champenoise, traditional French method. Crisp citrus, apple and pear with bright bubbly teases the senses and provides a refreshing finish. Celebrate the holidays, special events, and toast family and friends with this wonderful North Carolina wine.
Come taste for yourself!
Cheers!
Chuck