November 7, 2021 |
Chuck Jones
Fall. A time of thanks, a time of reflection for the gifts of the year, and a moment to remember those not with us. It is also a great time to take a pause to celebrate the hands that grow, prepare and serve our food and drink. With the Holiday season upon us, I wanted to say a few words of thanks to all of you who have raised a glass of JvD wine with family or friends. You are sharing the hard work of a team of folks committed to excellence in crafting fine wine in North Carolina. During many of my home deliveries this year, I was often told, "this wine is being shared with our neighbors at dinner club" or "this wine is a gift of appreciation to the family who cared for our pets while we were on vacation". Regardless of the words spoken, it is moving to know we are part of your kindness and celebrations. Thank you!
In appreciation of this sharing, we are offering a Thanksgiving Holiday discount so that more folks might experience the dedicated work of our team.
Announcing The Thanksgiving Holiday Discount:
From now until November 24, take an additional 5% off all bottle purchases. For our wine club members that is 20% on all wines currently offered. For all other guests, 5% off on 1-5 bottles, 10% off on 6-11 bottles and 15% off on 12 or more. We still offer $15 shipping on 6-11 bottles, and FREE shipping on 12 or more bottles. Click here to shop!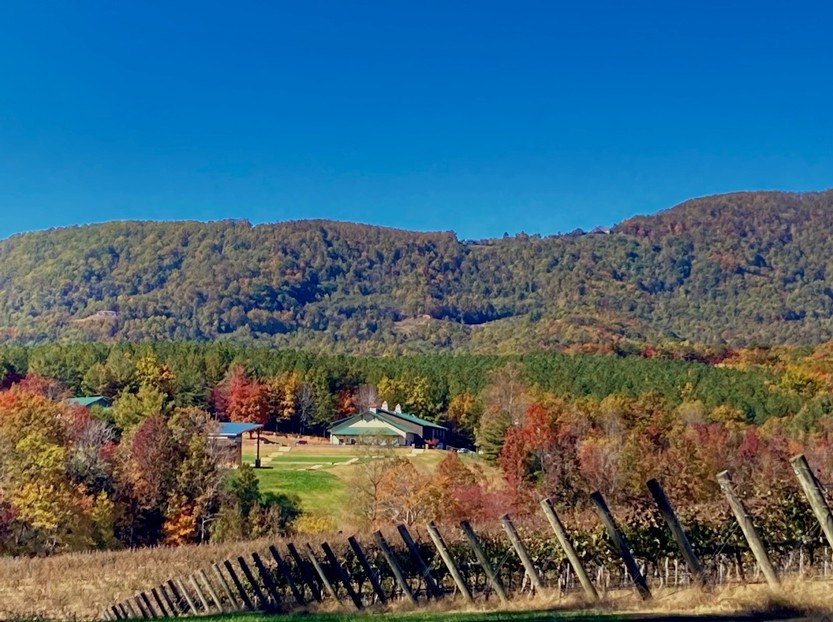 When you share our wines at your table, we would love to have you send photos so we can share with the JvD family.
I asked several members of our team to let me know what they will be serving for Thanksgiving and what wine they might pair it with.
Director of Hospitality, Erika Carter, shares this menu. Erika is WSET, Level II certified and brings a wealth of tasting and pairing experience to JvD.
Slow smoked turkey, creamy mashed potatoes, stuffing, roasted citrus green beans, baked brie and fresh homemade bread. The wine that makes this entire feast come together is the Barrel Chardonnay. With notes of lemon, vanilla and a hint oak, this French style liquid gold will accentuate every component of this meal. The oak will bring out the smoke in the turkey, the lemon note will accompany the citrus green beans, and the vanilla notes will pair magically with the creamy baked brie.
Vineyard Manager, Eric Steinbicker offers this unique spin on his Thanksgiving with amazing gourmet foods. Eric is a true foodie, and his menu shows it!
Wagyu chili crisp carpaccio with the Cabernet Franc. Shaved fennel feta salad with heirloom golden apples with the Barrel Chardonnay. Roasted hen of the woods mushroom bisque with shelled hemp and chive with the Viognier.
Our Winemaker, Tanner Pardue, pays homage to his home state of Louisiana with a Cajun inspired main dish that cries for family gathered around a long table. I bet he will also have some beignets on that table…
After spending several summers in New Orleans as a kid I grew an appreciation for jambalaya. I will be pairing the 2015 Merlot with jambalaya because the acidity of the wine can stand up to the tomatoes. The wine and the dish are also among my favorites.
Wine Director, Dan Tallman will be enjoying a meal that is certain to fill the kitchen with amazing, intriguing aromas.
Roasted pork tenderloin with garlic & rosemary, roasted butter nut squash, and caramelized Brussels sprouts with the Cabernet Franc.
Diana and I will celebrate our 46th Thanksgiving this year. We will have the traditional herb-roasted turkey with my great grandmother's stuffing recipe, plus the usual cast of characters, lima beans, mashed potatoes, gravy, maple carrots and pumpkin pie. Wine on the table will be the Rosa Dia, Viognier and Cabernet Franc.
As I reviewed the meals everyone was planning for Thanksgiving, Diana reminded me that one of our best and most loved Thanksgiving traditions is served the weekend after Thanksgiving, homemade creamy turkey vegetable and rice soup. On Saturday, the Turkey is picked clean, bones roasted, added to water to make a stock that is simmered for hours. Then we make the soup and serve with homemade sourdough bread with softened butter. The perfect wine to accompany this annual tradition is the Steel-Fermented Chardonnay. It is crisp with great acidity which complements the creamy soup. We can't wait!
Please let us know your pairings. We will start collecting and sharing with your permission.
A glass raised to all and Happy Thanksgiving!
Chuck