May 13, 2022 |
Chuck Jones
After five years of planning, designing, permitting, grading and construction, the STAGE @ Jones von Drehle opens on June 24, 2022. The challenges have been endless; record rains, pandemic, material shortages, labor delays, and design changes. But now, now…we are ready to bring music to the STAGE...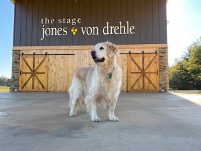 ...with a show featuring the incredible Heather Gillis Band! Heather brings amazing guitar energy backed by a band including brass. Read, hear and watch this extraordinary young lady, HERE then come see her at the STAGE.
Here is the list of upcoming shows at THE STAGE @ JONES VON DREHLE:
June 24, 2022, 7:00 – 9:00 PM – Heather Gillis Band
Heather Gillis is the TOTAL package as a guitar player, lap steel player, singer, songwriter, and arranger. You may not know her yet BUT listen up, as you are going to hear a lot about this young lady in the next few years! Heather is an amazingly versatile player and performer. At 22 years old, Heather has not only formed a strong southeastern following but has played alongside and befriended the likes of The Allman Brothers Band, Col. Bruce Hampton, North Mississippi Allstars and Damon Fowler just to name a few.
In 2015 Heather was recruited by (legendary Allman Brothers Band drummer) Butch Trucks to be a member of his touring outfit, Butch Trucks and the Freight Train Band (2015-2017). During this time people saw that Butch had a secret weapon in his band and Heather's name began to get talked about by those in the know. In early 2017, The Freight Train Band had a full touring schedule and Heather had planned to spend most of her time on the road touring with them throughout the year. That's when she received the shocking news of Butch's untimely death and all of a sudden had to switch gears and come up with a game plan. She relocated from the Tampa area to Atlanta, put together an all new band, and has not looked back since!
Gates open at 6:00 PM. All tickets are advanced purchase only, no day of concert tickets.
Tickets: Wine Club Members $42.50, General Admission $47.50 BUY NOW
July 1, 2022, 7:00 – 9:00 PM – Kruger Brothers
Originally from Switzerland, brothers Uwe and Jens Kruger began playing North American folk music at an early age and were particularly inspired by recordings of Doc Watson, Flatt and Scruggs, Bill Monroe, and other progenitors of country, bluegrass and folk music. Their first public performances were as a duo, busking on the streets of cities throughout Eastern and Western Europe. After gaining a recording contract as well as a radio show on SRG SSR, the Swiss public broadcaster, they teamed up with bass player Joel Landsberg, inaugurating a trio that has been playing professionally together since 1995. Landsberg is an American citizen from New York, NY. The first re- cording project to include Landsberg was Behind the Barn, Vol. 2, released in 1997.
The Kruger Brothers moved to the United States in 2002, and are based in Wilkesboro, NC. The group is highly regarded within the world of acoustic music in North America, and in particular by those within the industry. They have also gained the attention of some of the musicians, including Bill Monroe, Doc Watson, Tut Taylor, and Bobby Hicks, that once served as models. Watson has said, "The Kruger Brothers are just about as fine a band as I've ever played with. ... I love to play music with them." In 2013, Jens Kruger was named the fourth recipient of the Steve Martin Prize for Excellence in Banjo and Bluegrass Music. The prize, created and endowed by Martin, recognizes "outstanding accomplishments in the field of five-string banjo," Jens was selected by a committee that included Martin, Pete Wernick, Béla Fleck, Alison Brown, J.D. Crowe, Tony Trischka and others. Jens Kruger has been inducted to the Blue Ridge Music Hall of Fame, nominated for Banjo Instrumentalist of the year by the International Bluegrass Musician Association (IBMA) in 2014, and has received commissions for his ensemble compositions that include through the National Endowment for the Arts and Chamber Music America.
Gates open at 6:00 PM. All tickets are advanced purchase only, no day of concert tickets.
Tickets: Wine Club Members $42.50, General Admission $47.50 BUY NOW
July 8, 2022, 7:00 – 9:00 PM – Chatham Rabbits
As one of North Carolina's most beloved roots music outfits, Chatham Rabbits has swiftly emerged from the fertile Americana scene in the Triangle with intimate-close harmonies and mature songwriting.
The husband-and-wife duo of Sarah and Austin McCombie favor rich, minimalist arrangements, and their stage banter and presence connects to the audience in a way that is both warm and universal.
Summer 2022 PBS will release an 8 episode TV series called "On The Road With Chatham Rabbits". The show will chronicle the life of a young married couple and their journey to succeed in the modern music business. It will air locally throughout North Carolina and bordering states as well as stream globally.
Gates open at 6:00 PM. All tickets are advance purchase only, no day of concert tickets.
Tickets: Wine Club Members $42.50, General Admission $47.50 BUY NOW
July 22, 2022, 7:00 – 9:00 PM – The Tim O'Brien Band
Born in Wheeling, West Virginia in 1954, Grammy winning singer songwriter and multi- instrumentalist Tim O'Brien grew up singing in church and in school. After seeing Doc Watson on TV, became a lifelong devotee of old time and bluegrass music. Tim started touring nationally in 1978 with Colorado bluegrass band Hot Rize. His songs "Walk the Way the Wind Blows" and "Untold Stories" were bluegrass hits for Hot Rize, and country hits for Kathy Mattea. Soon more artists like Nickel Creek, Garth Brooks, and The Dixie Chicks covered his songs. Over the years, Tim has collaborated with his sister Mollie O'Brien, songwriter Darrell Scott, and noted old time musician Dirk Powell, as well as with Steve Earle, Mark Knopfler, Dan Auerbach and Sturgill Simpson.
Living in Nashville since 1996, O'Brien's skills on guitar, mandolin, fiddle, and banjo make him an in-demand session player. He tours throughout the US and abroad, most often with his partner Jan Fabricius on mandolin and vocals. His regular band includes Fabricius along with Mike Bub (bass) and Shad Cobb (fiddle). The International Bluegrass Music Association awarded him song of the year in 2006 and named him best male vocalist in 1993 and 2006. He was inducted into the West Virginia Music Hall of Fame in 2013. A voracious reader who loves to cook, he has two sons, Jackson (born 1982) and Joel (born 1990).
Notable O'Brien recordings include the bluegrass Dylan covers of "Red On Blonde", the Celtic-Appalachian fusion of "The Crossing", and the Grammy winning folk of "Fiddler's Green". His duet recording "Real Time" with Darrell Scott is a cult favorite, and he won a bluegrass Grammy as part of "The Earls Of Leicester". His 2017 release "Where the River Meets the Road" paid tribute to the music of his native West Virginia. O'Brien formed his own record label, Howdy Skies Records, in 1999, and launched the digital download label Short Order Sessions (SOS) with his partner Jan Fabricius in 2015.
His new release "He Walked On" features eight new originals and five covers from R.B. Morris, Bill Caswell, Dale Keys, Yip Harburg, and mentor J.D. Hutchison. A rhythm section including drummer Pete Abbott and long-time bassist Mike Bub underpins contributions from fiddlers Shad Cobb and Justin Moses, bassist Edgar Mayer, gospel singer Odessa Settles, guitarist Bo Ramsey, keyboard player Mike Rojas, as well as vocals and mandolin from Jan Fabricius. Historical and socially conscious themes weave their way through songs about ordinary and not so ordinary people just trying to "keep it between the ditches".
Gates open at 6:00 PM. All tickets are advance purchase only, no day of concert tickets.
Tickets: Wine Club Members $42.50, General Admission $47.50 BUY NOW
September 2, 2022, 7:00 – 9:00 PM – Robert Jon & the Wreck
Robert Jon & The Wreck are a double shot of southern rock with a blues chaser. Roots rock jams, whiskey drenched lyrics and fervent stage shows only scratch the surface of what makes RJ&TW one of the best live bands to emerge from Southern California in years. With a growing discography and billings alongside the likes of Joe Bonamassa, Sturgill Simpson, and Peter Frampton, the quintet is poised for their greatest work yet. Based in Orange County, CA with a vibe straight out of the south, Robert Jon & The Wreck are blazing a path into 2021 with a new album and international tour.
Gates open at 6:00 PM. All tickets advance purchase only, no day of concert tickets.
Tickets: Wine Club Members $42.50,General Admission $47.50 BUY NOW
September 9, 2022, 7:00 – 9:00 PM – John King & Band
Always Gonna Be You, the full-length debut from chart-topping country songwriter John King, is an autobiographical album whose songs tell a universal story. For King, that story began in the Appalachian foothills of northern Georgia, where he worked construction jobs as a teenager and strummed his first songs around the campfire. He also began dating the woman who would later become his wife. Always Gonna Be You tells the story of that real-life romance, its songs brimming with details we've all experienced: the rush of a new relationship, the brink of a breakup, and the thrill of falling in love.
King's songs may be relatable, but his success is extraordinary. A Number 1 songwriter who penned Randy Houser's chart-topping hit "We Went" and Hootie and The Blowfish's "Rollin," King launched his solo career with "Tonight Tonight" — a Top 40 hit whose anthemic chorus was heard everywhere from country radio to the weekly NFL recaps on CBS — and earned his stripes as a road warrior, playing 150 shows annually for the better part of a decade. With Always Gonna Be You, he blurs the boundaries between genres, creating a modern-day country album that's diverse and driven. Call it a coming-of-age story, performed by a southern son whose twang is matched by his pop hooks.
Gates open at 6:00 PM. All tickets are advance purchase only, no day of concert tickets available.
Tickets: Wine Club Members $42.50, General Admission $47.50 BUY NOW
October 14, 2022, 6:00 – 8:00 PM – Caleb Caudle
Equally inspired by American indie, classic rock, and roots rock, singer/songwriter Caleb Caudle carved out a cult following with his albums Carolina Ghost (2016) and Crushed Coins (2018). At its core, his songcraft is indebted to the Americana movement of the 21st century -- it has echoes of Ryan Adams and Jason Isbell, both in their evocative melodies and introspective lyrics -- while his records blend elements of the burnished country-rock of the '70s with spooky modern rock, creating a distinctive roots sound. 2014's Paint Another Layer on My Heart most clearly reflects Caudle's rock influences, Carolina Ghost puts his country influences front and center, and Crushed Coins finds him experimenting with a more moody and atmospheric studio techniques.
A native of the Winston-Salem area of North Carolina, Caudle began playing music as a teenager, notably with a group called The Bayonets. Initially inspired by punk, his tastes expanded to encompass rootsier music as he aged. He released an indie debut, Red Bank Road, in 2007 but didn't dedicate himself to music full-time until 2012, after the release of Tobacco Town. Two years later, he released Paint Another Layer on My Heart, which emphasized his heartland roots. Carolina Ghost, which followed in 2016, pushed him toward country sounds, but for its 2018 successor, Crushed Coins, he teamed with War on Drugs producer Jon Ashley to create a moodier approach. Caudle relocated from North Carolina to Nashville in 2019, and his next album was recorded in his new hometown. Aiming for a natural sound, he recorded 2020's Better Hurry Up at the Cash Cabin, which was once Johnny Cash's personal recording studio; the musicians included members of Wilco, The Jayhawks, Drivin' N Cryin', and Willie Nelson's and Sturgil Simpson's road bands.
Gates open at 6:00 PM. All tickets are advance purchase only, no day of concert tickets available.
Tickets: Wine Club Members $42.50, General Admission $47.50 BUY NOW
Concert Venue Information
Please see The Policies for The Stage @ Jones von Drehle on our website for the complete list prior to purchasing tickets.
Tickets prices plus applicable service fees and taxes.
Tickets are limited due to parking constraints.
Ticket sales are final with no refunds. All shows are rain or shine.
Over 18 only. Service dogs with ADA certification only.
Just bring yourself, an ID, and credit card/cash for food and beverage purchases. No backpacks, outside food or beverages, umbrellas, chairs or blankets. We will provide a folding chair for your use.
10" x 9" stadium approved clear bags are welcome.
As always, we are a no smoking, vaping or tobacco use property.
No returns to vehicle once in the venue.
Wine, beer, and lemonade available for sale. Bottled water is free.