November 30, 2020 |
Chuck Jones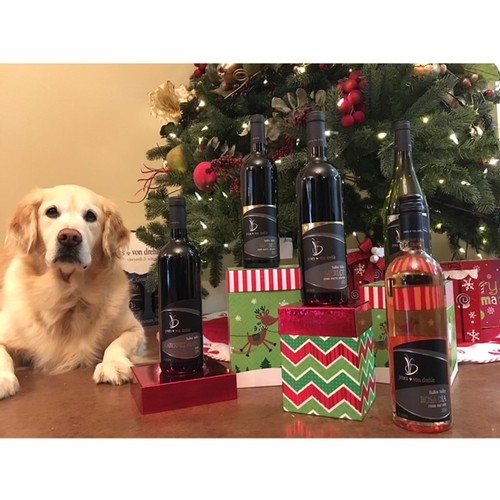 Thankful. So much said in such a small word. Even with the confusion, inconvenience and despair of this year, thankfulness abounds. Over the past nine months we have learned the deep value of supporting local businesses to keep jobs in our community; Thankful. The pleasure in meeting smiling eyes peering above a protective mask; Thankful. The dedication of neighbors providing healthcare and hope over seemingly endless days. Thankful. Scoring a four-roll pack of toilet tissue. Thankful, really….
We wish to add our thanks to this list. Since March, you have supported us in your purchases, whether wine for your table, a gift to a neighbor or simply for sipping and reflecting. Thank you.
On to news….
---
Special Holiday Offerings:
Wine & Cheese!
We are excited to offer our first ever Wine & Cheese Gift Box – all produced in North Carolina. This exciting combination was created by Scott Banks, President of White Knight Engineered Products in Charlotte as a special gift for clients and friends. A video was produced to accompany the gifts and Scott has granted us permission to share it with you here. Diana, Dan and Chris Sottile, Cheese Monger and Proprietor of The Loyalist Market in Matthews, NC, describe the wines and the pairings. The chance to present this 100% North Carolina offering is exciting and true to our mission of "Proudly North Carolina™".
Wines Included:
2017 Petit Manseng – A puzzlement. A red wine in white wine clothes. The wine that mystifies all who partake. Wraps around a rich creamy entrée with such a silkiness on the tongue and lingering finish to bring you back, again, and again…a celebrated gold medal champion at Jones von Drehle.
2015 Cabernet Franc – A wine that plays well with others. With complex berry, cherry and slight wood notes, this wine is poured in many restaurants across North Carolina. Its careful French Oak aging, with measured stirring and sampling consistently gives us one of the most food-friendly wines possible.
2015 Steel & Stone – An intriguing blend of Petit Verdot and Cabernet Sauvignon with a touch of Merlot. Deep in flavor of dark berries, plum, and dried fig with an elegant note of spice, violet and cedar. A true dark velvet glove of the wine world. Yes Virginia, North Carolina can produce a wine of depth and caliber to compete with the best.
Cheeses Included:
North Carolina is truly honored to be the home of amazing creameries that produce world-class cheeses. Chris has carefully selected the following that pair with each of the wines above. A full description of each is found here.
Boxxcar Handmade Cheese, Carrboro, NC – "Cottonbell"
Looking Glass Creamery, Fairview, NC – "Bear Wallow"
Goat Lady Dairy, Climax, NC – "Lindale"

What an incredible opportunity to share with your family, friends or send the perfect North Carolina gift to your customers and clients. Only $125 for the Holiday Wine & Cheese Pairing Gift Box, plus a $15 shipping fee. Discounts are not available for this special collection. It will be shipped in a secure carton with ice packs to ensure the freshness of the cheese. Orders must be received by December 18th for shipping or up to December 22nd for pickup at Jones von Drehle Vineyards and Winery. Order yours now!

---
Wine for Christmas! Only 21 days remain to ship in time for Christmas!
Order by the 21st to make sure your special gift is under the tree in time for Christmas Dinner or Fireside Time. Every shipment includes the wonderful Chloe Christmas Card with a message of your choice! Visit our online shop here!

---
The Tasting Room Opens!
Beginning Friday December 4th, we will open the Tasting Room for hosted tasting. We are doing this on a reservation system; click here to reserve your spot! We can accept walk-ins if the space permits. Per Covid-19 regulations, limited occupancy and spacing will be maintained. Masks will be required except when tasting. Groups no larger than 6 and no one under 21 will be allowed in the tasting room.
We will discontinue the patio wine flights, but glasses and bottles will be available for outside seating. Wine sales for take home are always available. We will maintain the Friday-Sunday hours of 12:00PM - 5:00PM, but if you need wine for that special occasion, dinner or just down time, call or email us. We will do our best to meet you at the winery or even deliver. Thank you.
---
In closing, let's all remember to smile a little more, laugh a little louder and wish hope for all during this Holiday Season.
Cheers,
Chuck