August 5, 2021 | The Jones von Drehle Blog | Chuck Jones
A Note from the Vineyard: Véraison
Véraison (veh-ray-zohN)
Véraison. Now happening across the vineyard. It is the start of ripening, when red grapes change from a vibrant green to blue or purple and white grapes develop a translucent hue. Sugars begin to accumulate while acids decline. This process marks one of the major milestones in a grapevine annual cycle. For us, it begets anticipation.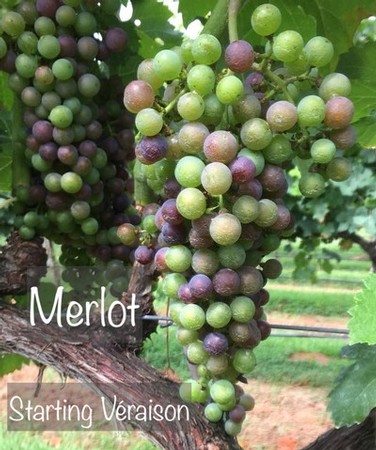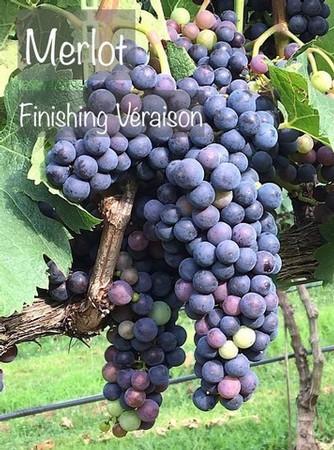 When the grapes near ripeness, the deer, racoons, squirrels, geese, and all manner of birds line up in the rows like it is a Golden Corral Grand Opening. Those who have visited have seen the 7 ft tall deer fence – over a mile of it – and electric fence that surround the vines. This is merely a speed bump for the really determined, but it does help to deter the majority. Our most popular grape with the wildlife is Tempranillo. If left unchecked the deer will take nearly 50% of the fruit. As you drive by in the evenings and early mornings, you will see us taking turns patrolling the vineyard. We have thought of dogs but with 30 acres to protect, it is not feasible. All part of farming…
In just 4 to 6 weeks, we will begin the frenzy of harvest. Grapes must be picked when they are ready, not at our convenience. No matter weekday or weekend. When it is time to pick, we must go. In the next post we will discuss how we determine when to pick.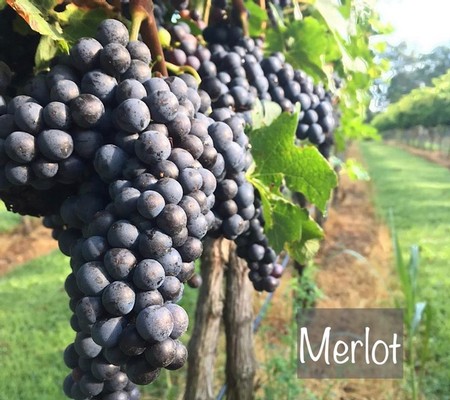 Over the next several posts we will spend a few words discussing each of the grapes we grow at Jones von Drehle. First up is Merlot.
When you first enter the vineyard at the south gate, you are looking at Block G, planted entirely with Merlot; approximately 2.5 acres. This is the coolest part of the vineyard with loam clay soils that drain quickly and make the vines work a little harder to look for water. The vines are planted 6 feet apart from each other and 9 feet across on the aisles. This spacing gives each vine 54 square feet to reside in, which equals to 807 vines to the acre (43,560 / 54). The cordon (French word for arm) wire is situated 42" above the ground, providing great airflow helping to dry off morning dew or summer rains, which lessens disease pressure.
We make our estate and reserve Merlots from this special planting. Our clonal selections are Bear Flats and ENTAV INRA 343, both grafted on 3309 Rootstock. The wine produced is very typical of rich merlots with a portfolio of dark berry fruits, cherry and in some years ripe plum. We use French oak for aging, anywhere from 36 to 60 months depending on the vintage. Oak contributes nice cedar, slight winter spice and hints of vanilla. The wine presents nice, well rounded tannins and soft fruit notes on the nose and palate.
Chuck